GroupBrainstorm-Group:CalVegan
From CS 160 Fall 2010
Group members
Brainstorming Ideas
1. Cooking app that instructs you how to cook dishes
2. Recipe app that helps you find recipes given what you have available
3. App that tracks time/money spent on video games
4. Pottery app that teaches you how to make pottery
5. Baking app that teaches you how to bake
6. Location-based time management app
7. Expense tracker
8. Deb-tracker (i.e. Roommate A owes roommate B $x)
9. An app that remembers which username you used for which site
10. An app that lets you know if you need to take a shower
11. Bird recognizer app
12. Time to sleep app - determines when you need to sleep based on your schedule & how many hours you want to sleep
13. Cheapest gas station nearby app
14. TV show tracker
15. Books to read app - allows you to enter the books you want to read
16. Learning to read app for kids - kids read aloud & app corrects their pronunciation
17. Moves to watch app, with option for local movie times
18. Treasure hunting app (Geocaching)
19. Hiker friend finder when lost app
20. Dice rolling app (rolls dice for you)
21. Text-to-speech app that reads out what you type in
22. Freebie app that shows where you can get free stuff
23. Outfit-creating app that will create outfits based on a picture of a clothing article you want to match with
24. Dress-me app, where you can take a picture of clothes and put it on your virtual body
25. Log of your closet app, so you can swipe through your tops/bottoms and pair clothing that way
26. Outdoor cooking app, for grilled items, camping, picnics, etc.
27. App to hire strippers
28. App that rates a person based on attractiveness, personality, wealth, etc.
29. Dream Diary app
30. Eyeglasses prescription app - user reads something on the screen, and the app determines their prescription
31. What foods won't get stuck in my braces app
32. Fishing spots for boaters app
33. App that records if you snore at night
34. Cooking for vegans
35. An app that lets you DJ songs and make mixes.
36. An app that calculates the calories of your meal.
37. An app that sends you an alert whenever one of your favorite sports teams is going to be playing a game.
38. An app lets you input the flight # and airline, and tracks the status of that flight.
39. An app that gives you a random dare/adventure to do with your friends.
40. Digital picture frame app that scrolls through your photos, allowing you to use your Archos as a digital picture frame
41. Grade tracker app that records your scores, weights for each assignment, and calculates your raw grade
42. An app that tells you when your makeup items are going to expire, based on when you bought the item and the recommended time you should replace it
43. Celebrity recognizer app
44. Guitar tabs app that keeps a large database of guitar tabs for songs
45. Thank you note generator
46. Come-on line generator
47. an app that gives you information on different kinds of tea/coffee
48. a music transcriber for learning musicians
49. an app that shows how to remove stains from clothes or furniture etc.
50. an app that helps you find and hire pet sitters
51. an app that generates random math or physics problems/puzzles
52. an app that finds user ratings and comments about a product you see in a store
53. an app that shows painters how to mix colors
54. an app that record your snorting sounds while you are sleeping and keep statistics how of often you snort
55. an app that teaches how to make all kinds of boba tea
56. an app that scream "ahhhhhhhhhhh, ouchhh!", when ever you drop the phone
57. an app that teaches you how to pull Chinese noodles
58. an app that display subtitle(srt) or lyric(lrc) when songs or movies are being played
Idea Selection
We generated over 50 ideas, many centered around the topics of food such as shopping, cooking, and eating. We also generated some really cool organizing and socializing ideas as well. Given this vast variations of choices, we decided to pick the vegan cooking app because a majority of our ideas are centered around food, the vegan app narrows down our targeted group making it more specific to learn and study, and also everyone in the group enjoys a lot talking about foods. We noticed that there are already a wide variety of cooking apps out there, however most are for non-vegetarians. Since most cooking apps excluded vegan targets, we would like to challenge ourselves to make a cooking app that is specialized for just for the vegans because after all vegans too would like to cook delicious food and share it with their friends.
Target User Group
This app is targeted at vegans. To be specific, we focus on the subsection of the vegan community which would like to enjoy their camping trips without breaking their strict diets. These are the people have to deal with friends and family who prefer meat foods (which are the go-to food when it comes to outdoor cooking) during their hiking excursions. Since these people will sometimes have to deal with cooking for the many (as well as themselves), the app will provide tasty dishes for the vegan, as well as dishes that perhaps their companions might enjoy as well.
Problem Description & Context
Vegans, with their extremely selective diet, already have a hard enough time finding restaurants that cater to their needs. Because vegans comprise of such a small percentage of the total population (between 0.2% and 1.3% in the U.S.), many dining places often ignore their needs and instead focus on dishes that are both appealing to the meat-loving masses and easier to prepare. So vegans who are avid fans of the outdoors (hiking, camping, barbecuing) naturally have an even harder time finding foods that can be prepared outside of their homes. When we think of barbecues, we instinctively think of chicken, beef, or hot dogs that are prepared on the grill or over a campfire. Really, vegans who love cooking outdoors or going on hikes often feel like they have a very limited palette of foods to choose from. Our app proposes a solution to that, offering outdoorsy vegans diverse options of foods that can be either prepared outdoors (on a grill, for example) or found outdoors (safe fruits and berries to pick).
Why A Mobile App?
Because of their special diet, vegans may often find themselves in situations that forces them to cook their own food. Carrying a recipe book everywhere is not practical and not green(we need to save some trees). Having a mobile app for vegan recipes is very helpful because the user carries his/her mobile device most of the time. When our vegan user is on a picnic or bbq or just staying with a friend, he/she can just check the app for a good recipe.
Sketches
Here is our chef logo!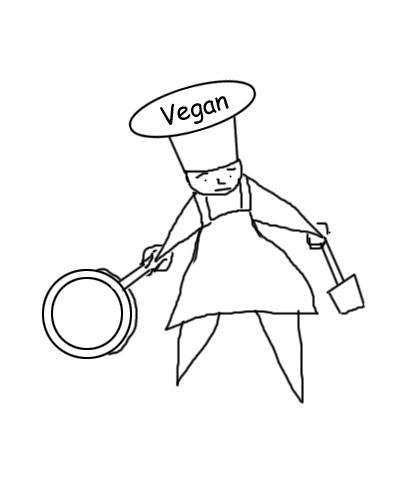 Below is one of the possible solution sketches on how our app should look like